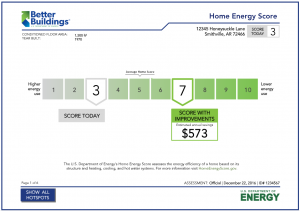 Do you need a Portland Home Energy Score or a Portland Home Inspection?
Well the you have came to the right place!
We deliver home Hillsboro, Milwaukie and Home Energy Scores and Home inspection reports the same day as evaluation.
If you are selling your home you are required to get a City of Portland home energy score , City of Milwaukie home energy score or City of Hillsboro Home energy score done at the time of listing your home for sale.
I have been an Oregon certified home inspector for 20+ years and Dept. of Energy approved home energy score accessor for 3+ yrs.
I invest a lot of time during, the home inspection and energy audit to provide fast and Oregon approved Energy Audits.
Convenient, Time-Saving Options for You
No one wants to waste a lot of time waiting around for a home inspection or home energy score.
So, we've built a customer-friendly platform that fits everyone's schedule and also prioritizes your top needs.
HES reports are completed and sent to each customer on the same day as the inspection.
Would you like to attend the Home inspection or Portland Home Energy Audit ?
We welcome customers to join us.
Home Energy Score reports contain a lot of information.
If you need help deciphering yours, give us a call!
Dept. of Energy approved Home Energy Reports.

Home Energy Scores
We take pride in offering home energy audits to buyers, sellers, and agents in Portland and Milwaukie.
Fast friendly service, reports delivered same day!
In 2016, Portland City Council unanimously passed the Home Energy Score Ordinance, requiring the disclosure of a Home Energy Score and Report when a home is publicly advertised for sale in Portland. Home Energy Score requirements went into effect January 1, 2018.
The ordinance directed the Bureau of Planning and Sustainability to report to Portland City Council after 30 months and evaluate the results of the program, including accuracy of disclosed information, rates of compliance, program impacts and recommendations for ongoing review.
More than 20,000 Home Energy Scores are now in the Portland real-estate market, providing unprecedented transparency, insight and data about residential energy performance and carbon emissions. The Home Energy Score program has revealed, with great focus, the areas of opportunity for Portland's housing stock to become safer, healthier, more efficient and less air- and carbon-polluting. The Home Energy Score program has become a model that multiple Oregon jurisdictions are poised to follow. The City of Milwaukie just launched its own scoring requirements on October 1.
The Home Energy Score program provides a solid foundation from which to scale residential energy upgrades. These upgrades are a critical next step in improving the health, comfort, affordability and safety of Portland homes, while reducing carbon emissions necessary to meet our collective climate action goals.
Find us on Bing
CCB #160745 OHCI #806